Cancer 2004: Third Ray, Cancer & Survival. New Zealand.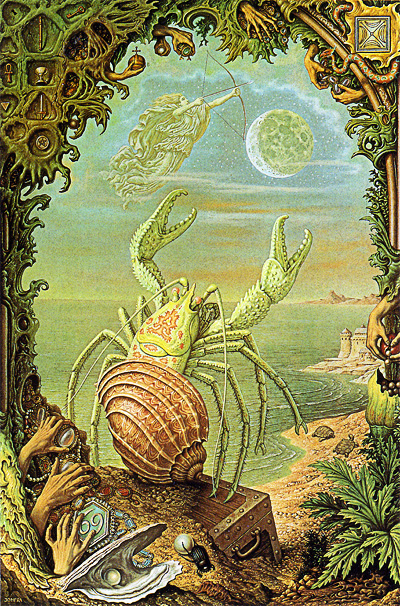 Keynote
"I build a lighted house and therein dwell."
---
Cancer, the Third Ray and Survival
Iraq: Beginning of a Homeland
New Zealand and Cancerian Traits
---
Cancer, the Third Ray and Survival
Cancer is a most ancient sign, representing it is said, 'the doorway into incarnation'. Whilst pondering this sign recently two related themes occurred to this author:
1) The third ray of active-intelligence which pours through this sign.
2) The primordial instincts of fear and survival.
The third ray of active-intelligence is ancient from the viewpoint that it was the quality which characterised the first solar system, the result of an incarnation of the solar logos before this solar system. As the quality of intelligence was developed then, so in this 'incarnation' (an immense period of time) we are learning about love-wisdom.
Cancer is unique in that it is generally considered a watery 'emotional' sign, and yet it has two 'rays of mind' passing through it – the third and seventh. Hence the quality of 'instinctive intelligence' that characterises Cancer is behind its ability as a ''resources manager' – whether it is a mother providing food and shelter for her child, a businessman or statesman.
All have the ability to organise (seventh ray) resources and money that ensure survival. Sometimes that survival means the acute manipulation (third ray) of money and people to achieve those ends. The deeply imbedded instinct of fear in all its guises is quite often the motive for such action.
It is said by The Tibetan that fear is the major glamour of Humanity – the courage antidote for which is met in the following sign Leo. It is interesting that many Cancer Suns have their progressed Sun in Leo for a large part of their lives – Princess Diana, Nelson Mandela and the Dalai Lama to name a few.
From one perspective, with the combination of intelligence and a finger on the pulse of other's feeling natures, Cancer is a sign of kama-manas or desire-mind. One way it manifests is as cunning – the dictionary definition being, 'skill employed in a crafty manner; skilfulness in deceiving; craftiness; guile.'
These are all classic keywords for the third ray and also Cancer with its indirectness, subtlety and sideways gait. Here is a good example of how the science of the seven rays constitutes the missing part of astrology – many of the signs derive their meaning from the rays associated with them.
Some of these Cancerian qualities are also in common with Gemini the previous sign, demonstrating the how the zodiac signs overlap. Of course many Geminians live a great proportion of their lives with the progressed Sun in Cancer. Similarly, those born in early Leo will exhibit Cancerian qualities – the shy or retiring lion for instance.
In one way Cancer rules Humanity, having been active at the middle part of the Individualisation period 21.5 million years ago. "And the eyes of them both were opened, and they knew that they were naked." (Genesis 3:7) Cancer fell between two other signs – also active at the time – over a 5,000 year period, Gemini and Leo.
As this sign has to do with manifestation (third and seventh rays) and the mother – it creates and gives birth to the form. New bodies were created at that time for the newly individualised infant race to utilise. Cancer represents the womb through which all life is birthed whilst Capricorn the tomb whereby life is left, also symbolic of the sarcophagus of initiation; the candidate lies in the womb-like stone coffin and is re-born to the higher self, 'raised from the dead'.
Cancer has several traits in common with Virgo and both have the Moon rulership – exoterically and esoterically. They are both related to the building, birthing and nurturing of all forms in nature.
In the area of business and money Cancer is most prominent – in fact the whole Cancer-Capricorn axis is about resources and their manifestation. Donald Trump ('you're fired'!) has a Venus-Saturn conjunction in Cancer, coupled with some wiley placements in Gemini – and Leo rising (the hair). Cancer rules Scotland the home of banks and 'canny' Scots – Trump's heritage.
Richard Branson is another extremely successful Cancerian who also has Leo rising – he does not mind the limelight. John D. Rockefeller and Stavros Niarchos were both Cancer Sun tycoons.
Cancerians, not unlike Dicken's Capricornian Scrooge, can tend to hang onto money and not want to let it go. Many a rich or well off Cancerian have been known to live very plain and austere lives – being either afraid to enjoy their wealth – or finding it difficult to change the thrifty behaviour that accumulated such wealth.
If Capricorn rules the "Law of Supply" – the cornucopia of plentiful resources, then Cancer rules the "Law of Demand" – as the newly born infant demands milk from the mother's breast:
"One of those maxims I can here give anent supply and demand. It is only as a skilful use is made of the supply for the needs of the worker and the work (I choose these words each one with deliberation) that that supply continues to pour in. The secret is: use, demand, take. Only as the door is unlocked by the law of demand is another and higher door unlocked permitting supply. The law of gravitation holds hid the secret.  Think this out." [1]
Cancerians can find it very difficult to let go of people, objects, property, money etc. and therefore, not unlike Taurus (where the Moon is exalted), need to learn how to release those pincers which can hang on so tightly.
The realm of the Crab between low and high water mark reflects its subjection to lunar forces that bring the tide in and take it out again – an ebbing and a flowing – twice in a lunar day. Cancerians are so subject (ive) to this astral current, hence their psychic sensitivity. The Moon is the ruler of the fourth ray of Harmony through Conflict (the ray of Humanity) and describes the emotional roller-coaster that some Cancerians experience. Neptune as soul ruler of Cancer is the 'ocean of emotion' on the one hand, or that great sea of consciousness into which the conscious seeker can intelligently tap.
Cancer is very territorial – woe betide anyone who strays onto their patch! So deeply rooted is this instinct-fear, that even for so-called 'disciples on the path', notions of 'brotherhood' and 'all that I have is theirs' can be easily forgotten or deftly rationalised.
However, this sign has great qualities of tenacity and persistence – as well as being deeply nurturing and caring individuals. The love aspect represented by Neptune pours forth as unconditional compassion and empathy. It is the distorted Neptunian and lunar vibrations of Cancer, united with the 'instinctive intelligence' that create maya.
When speaking of Cancer in a horoscope – it includes the Moon or rising sign. Also, if the ruler of the Sun sign is placed in Cancer, it can give a very powerful Cancerian sub-expression to the personality. An Aries Sun for instance, with Mars in Cancer – the place of its fall, would be a tough emotional placement.
Exoterically Cancer rules mother and the family, one's biological heritage; esoterically one's spiritual family. One of the tests for initiation it is said, relates to recognising one's brother upon the path. How many of us are able to do this, being frequently blinded by personality or personal prejudices? And if one can recognise our fellow travellers by their qualities or 'fruits', how do we support them as 'family' members? Quite often lip-service is not enough – 'talk is cheap' as they say.
Frequently aspirants get caught up in biological family issues unnecessarily and because of their own attachments – at the expense of having any contribution toward their spiritual family or 'ashram' hampered.
Iraq: Beginning of a Homeland
In a surprise move no doubt aimed at pre-empting terrorists, the handover of power to the Iraqis came a couple of days early – June 28 at 10.26 am Baghdad time. It is quite appropriate that Iraq starts her reincarnation process as a nation seeking selfhood during this full moon Cancer period – but the pregnancy has been difficult and the birth possibly even more so. Whether she grows into a young child and adult only time will tell. Saturn's transit through Cancer has exacted its pound of flesh – whilst many continue to make the sacrifice with their lives on a daily basis.
However, this event horoscope has redeeming qualities and can be regarded as an important stage on the road to eventual elections and democracy. Virgo and Jupiter are on the ascendant, with Venus in Gemini prominent on the midheaven at the point of a T-square to Jupiter and planet of freedom, Uranus. Much has been said recently about Venus and her role as Peacemaker, as soul ruler of Gemini and the reconciling of the warring twins. (Venus is also in Gemini in the Iraq Republic chart for 1958.)
These twins can be perceived as the two brothers of Sheeite and Sunni Muslims whose divisiveness is widely recognised as threatening to plunge the country into civil war. So much blame is levelled at the Americans or the terrorists, but an ongoing religious problem has been festering for years and its shadow is hate, bigotry, prejudice and the denigration of women: Iraqis killing Iraqis, Arab-Muslim terrorists laying waste fellow Arab-Muslim citizens of Iraq. Callous and murderous beheading after beheading, designed to instill fear and revulsion in the world.
No doubt there still lies a fiery road ahead for Iraq, and whether or not we agree with the invasion of this country, Iraq deserves the spiritual and material support of the world in realising her aspirations and dreams.
Mass consciousness is ruled by Cancer and relates to the 'commonality' of the Moon rulership as well as the 'sea of consciousness' over which Neptune rules. The blind masses are swayed by the 'ideals' of say a Baptist preacher, a Muslim cleric or someone like Bin Laden (Pisces Sun). It is partly a symptom of Neptune in its lower charismatic and captivating octave working through the astral plane with Mars, deliverer of fiery rhetoric. Neptune as ruler of the sixth ray of Idealism, plus the martial sixth ray ruling Islam and Christianity have been well documented in these newsletters.
In the Handover horoscope the Moon in Scorpio reflects the intense and painful struggle that Iraq has been through, not just since the invasion but the last thirty years under Hussein's tyrannical rule. The Scorpio Moon is in a grand trine to the Sun in Cancer and Uranus in Pisces and may provide an underlying pattern for innovative and determined change – but not necessarily stability.
Scorpio's dispositor, Mars, is placed in Leo in the eleventh house, representing a fiercely proud people. Mars is unaspected, creating a 'loose cannon' effect, no doubt representing ongoing insurgencies and terrorists attempting to undermine the political situation.
With the handover of power, Saddam Hussein is also slated to return to Iraq in the next few days around the full moon. Hussein's progressed Sun in Cancer falls right on the Sun of the full moon chart, no doubt putting him in the spotlight – appropriate perhaps for his Sun-ruled Leo rising chart – almost the same degree as Mars in the Handover chart.
Interesting that Bush's Cancer Sun is also close to Hussein's progressed Sun and the Sun of this full moon period. The Sun is the ruler of Bush's Leo rising sign – you could say there are two Leonine kings here, one having subdued another – some might prefer to call them both despots! (Bush senior's Pluto is also conjunct his old enemy Hussein's progressed Sun.)
The settling and healing of Iraq's internal family (Cancer) problems is only just beginning. Hussein's trial by his own people will no doubt be the first major challenge that will give many back their self-respect, dignity and alleviation of the fear under which they have lived – they need to excise the cancer from the body of the nation.
This Cancer full moon also falls upon America's Cancer Sun. The Sun-Saturn conjunction straddles Sirius – the star of freedom and liberation. Saturn as keeper of the Law acts as intermediary for the greater Sirian law.
Whilst on this law theme, the American chart has the aspect of Sun square Saturn in Libra (the law), discussed in several other newsletters. This aspect will be triggered strongly at the full moon and may already be 'kicking in'. The supreme court has ruled that the detention of prisoners in Guantanamo Bay is illegal and that Bush cannot act as supreme arbiter upon the fate of prisoners there.
A reminder also that the UN is going through its Saturn return (natal Saturn in Cancer) in the next couple of months – a testing time for all concerned as Iraq attempts to govern itself. Will there be evoked in the UN the Cancerian compassion signified by esoteric ruler Neptune – paraphrasing the Tibetan – 'to salvage the lives with which it has an affinity'? This may well have ramifications for places like Sudan, somewhat overshadowed by Iraq, but nonetheless currently suffering a nightmare created by religious and racist extremists.
New Zealand and Cancerian Traits
New Zealand, the residence of this author for over three years, is strongly Cancerian. DK gives it Gemini rising with a Virgo personality (Sun), which places the Sun in the fourth Cancerian house of the esoteric chart. Hence this nation has a kind of a hybrid Cancer-Virgo personality  very big on the mother theme and clans – Maori, Celtic and Asian alike.
It also provides a unique combination that has probably created the most museums in the world! There are several radio stations that play only hits from bygone eras. There are frequent commemorations and anniversaries for obscure events that happened years ago. There are national obsessions with housing and Maori land rights.
This author has written a long essay on New Zealand in his book The Destiny of Races and Nations, giving a (hopefully) balanced view of this nation's soul and personality characteristics – It is much easier to see a country that you have not grown up in, as an outsider looking in.
On a more personal note, it happens that yours truly has had enough for now(2003) and is returning to Australia soon – a nation which happens to be a Capricorn personality. It is very wet in N.Z. – frequently raining – whilst Australia is currently in the grip of the worst drought on record. So I ride the axis from Cancer to Capricorn.
Thanks is due to 'mother' Aeoteroa for all that she has taught me while on her shores – even if it was somewhat painful at times! To those several Cancer Moons whose claws in which I became (willingly) entangled, not to mention the three Virgo goddesses – Eve, Isis and Mary. To the grace and goodwill of my fellow Kiwi co-workers and students, to the mystery of these ancient Lemurian islands – and to all those friendly hobbits thanks!
Phillip Lindsay © 2004
---
[1] Letters on Occult Meditation, Alice A. Bailey. p.205.